How Stonecastle created a documentary-style healthcare commercial campaign that felt original
As Vanderbilt Medical Center's former Chief Marketing Officer, Jill Austin understands the importance of engaging video content in any successful healthcare marketing strategy. Since 2009, her team has hired Stonecastle to create a variety of fundraising videos, internal marketing videos, and recruitment videos. In 2017, Jill approached Stonecastle with a bigger challenge: to partner with her marketing team to develop and produce Vanderbilt's brand TV campaign.
Often, projects of this scope are awarded to advertising agencies, but Jill and her team had a clear vision for a documentary-style campaign and trusted Stonecastle to oversee every creative element of the project, from casting to directing to delivering the final edited commercials.
Watch our conversation about the project with Jill:
The challenge: Produce healthcare ads that don't feel like healthcare ads
Vanderbilt already knew how to make slick, conventional TV commercials. The problem was, they didn't transmit personal warmth or authenticity to audiences increasingly skeptical of voiceovers and taglines. So for this campaign, Jill and her team tasked Stonecastle with finding real stories from patients and physicians and using their own words – absolutely no scripted lines! – to provide the marketing copy. Bold? Yes. A little risky? Absolutely.
"Everybody knows that academic medical centers are smart. They know they're gonna get the brains," says Jill. "What they don't know is: are you going to care about me? Just saying we care about you – that doesn't really do it. So this idea that a documentary-style [campaign] would actually show it… in a way that was meaningful to the patients in their words, in their life, that was what we were trying to achieve."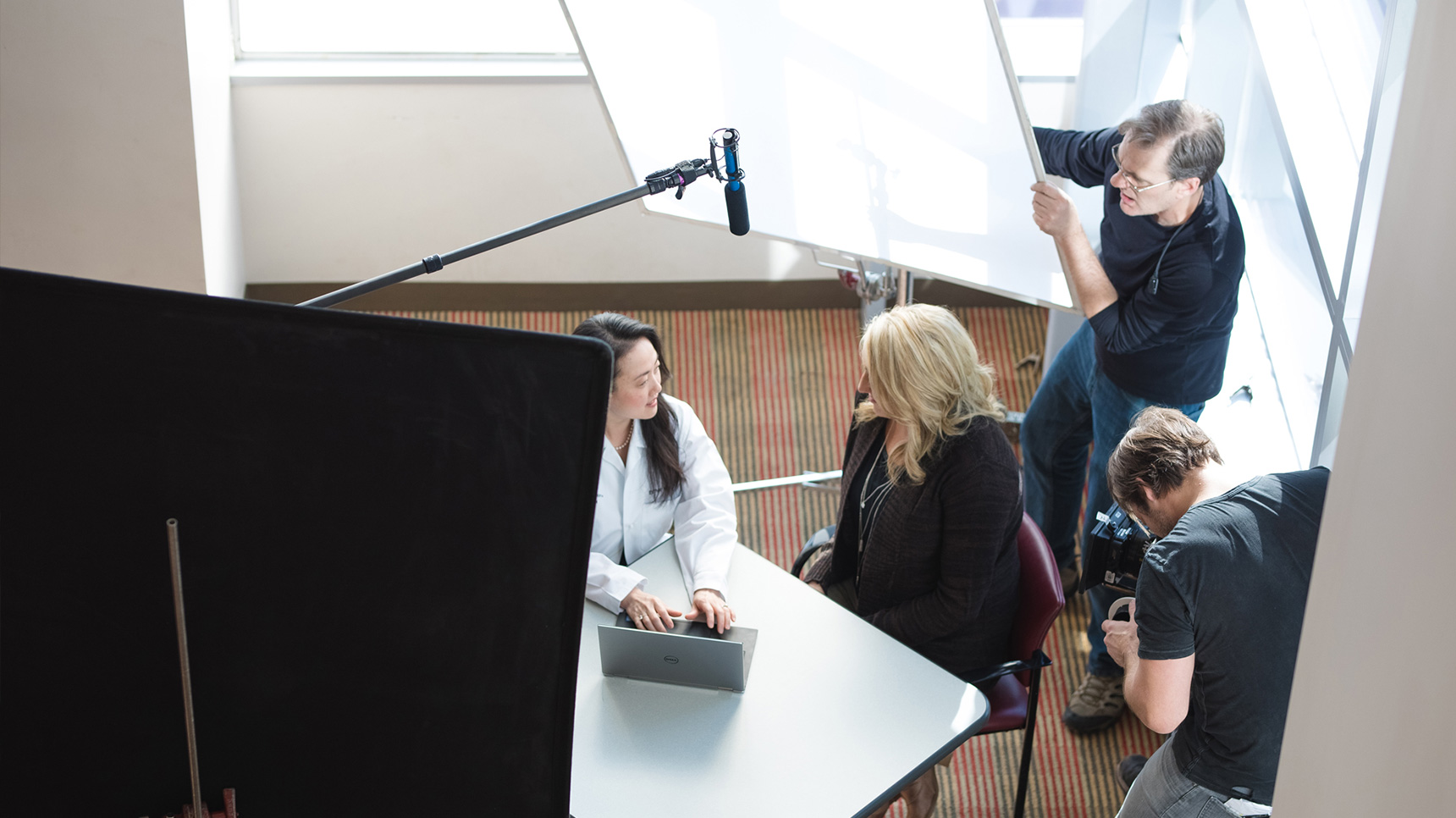 A unique video production workflow to capture unscripted content
To find the stories that aligned with Vanderbilt's brand messaging, Stonecastle's storytelling team began the process with casting. These interviews allowed us to assemble story profiles that gave Vanderbilt insights into how all the puzzle pieces would fit together as a cohesive campaign.
When it came time to shoot, Stonecastle assembled a quick-as-lightning production crew with experience working in our unique hybrid commercial/documentary setup. By bringing only the most essential people and equipment on-set, we were able to move quickly and easily in ways that standard commercial productions cannot. The result? The ability to follow unscripted moments. To capture more footage. To maintain a relaxed set for intimate interviews. And to maneuver easily around a working hospital.
That flexibility is what allowed us to pull off this commercial below, featuring an energetic seven-year old patient named Hannah who, by all appearances, slammed two packs of Skittles on her way to the set.
Clients like Jill appreciate the special moments that this flexible documentary approach allows.
"The Stonecastle difference was evident," says Jill. "And to me, it's the ability to capture the essence of the person in a way that so clearly comes through that others are just drawn in to their story. It's mesmerizing. It's magnificent. And that really is a talent. And it's unique."
Post-production: Bringing the stories to life
During the post-production process, Vanderbilt's marketing team was able to check-in on our progress by reviewing daily edits, downloading interview transcripts, and sitting in with the director and editor to make changes in real-time. Jill remembers her own first look at the rough cuts: "We were in the edit suite and I'm like just sitting there, the tears were rolling down, and I'm like: oh my gosh, this is so good!"
"That genuineness, that idea of true content – meaning it really is a true reflection – is what is so captivating about it, and needed in the healthcare world."
As a final step, Stonecastle sent the locked edits for professional color grading, sound mix and design, animation paint-outs, closed captioning, and a custom music score. From the very first concept meeting to the casting and directing, all the way to delivery of the finished commercials, Jill says he and her team were able to entrust their story to Stonecastle.
"I think the idea that we pulled off warming [Vanderbilt] up in a really genuine way, that's not easy to do," says Jill. "There are people across this country that are trying to do what we achieved here. So that's kind of a career highlight."
Want to see the commercials?
Head on over to the case study.
Click here