News
Stonecastle captures a day in the life of hospital chaplains for Vanderbilt
Vanderbilt Medical Center commissioned Stonecastle to produce a brand video for its little-known Spiritual Care Department, which deploys chaplains across the hospital for everything from last rites to wedding ceremonies. 
"Every day is totally different," Rev. Amanda Borchik told us. "It's one of the reasons why I love this work so much."
During the pandemic, chaplains became a much more visible presence at Vanderbilt, attending not just to patients but also to stressed and over-worked hospital staff. With employees beginning to recognize chaplains as a resource, Vanderbilt asked Stonecastle to capture their contributions in this short documentary below.
How we worked
Our goal for this short film was to capture the humanity behind one of the toughest and most emotionally-draining jobs in any hospital. We spent two days with three chaplains, following them wherever their pagers summoned them. 
We began our first day with Rev. Borchik, who agreed to let us to join her as she made her morning rounds. During a break in filming, director Barry Simmons noticed Amanda checking her pager, clearly upset underneath her mask. As director of photography Michael Patti rolled his camera, Barry approached and asked her what had happened. What followed became the emotional core of the story as Amanda dropped her guard, explaining that she'd just received terrible news about a young patient.
"You just wish there was anything you could do to change it for [the parents] because you know how much they love their child," she said. "We grieve every time something hard happens, just like we celebrate when something good happens. But you can't not grieve, because you so deeply love."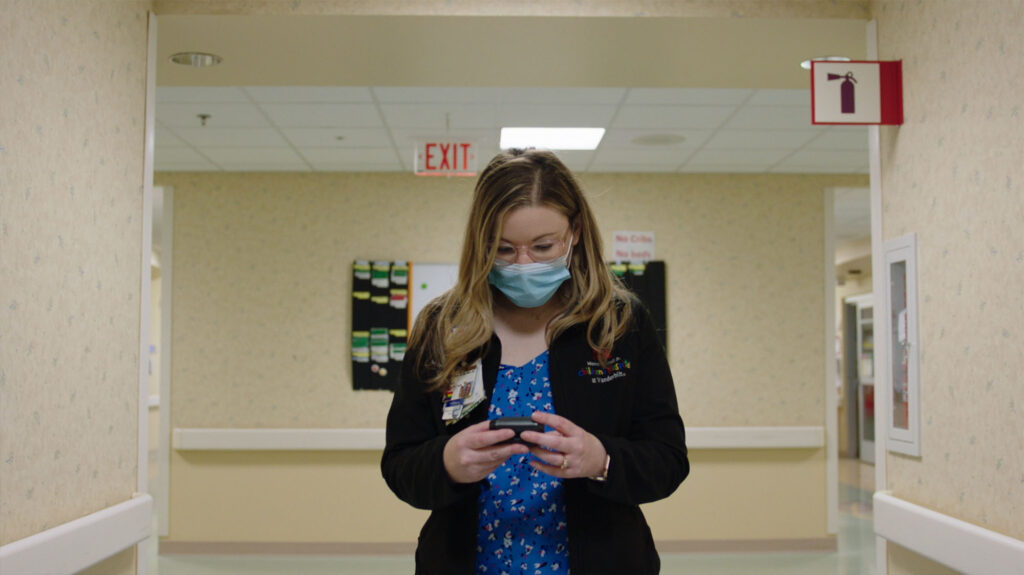 Where discipline meets creativity
These kinds of unplanned, soulful moments reveal themselves often during Stonecastle shoots, but it's not a coincidence. They're the payoff for our discipline to listen for signals of dramatic potential. "No one walks up and tells us they're having a moment," says director Barry Simmons. "You have to exercise an emotional awareness and constantly ask probing questions – and not just when the camera's rolling. You keep at it, sometimes all day, until the good stuff starts to bubble up. A good documentary crew like ours knows to always be ready to catch these moments when they finally reveal themselves."
Got a project?
We'd love to schedule a time to talk.
Email us